The Great Escape
Grounded in a near-century-old legacy, this is a whole new escape from the commonplace. (Re)built by the Idaho Aviation Foundation to be a beautiful, nonprofit public resource in the great outdoors, Big Creek Lodge opens up an off-the-grid backcountry experience unlike anything else out there. Make your getaway.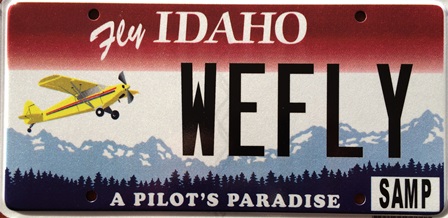 Action Needed!!
Due to the "Fly Idaho" Specialty License Plate program the IAF receives funds which pay all of our administrative costs. This benefits donors in that 100% of donated money can then go to IAF programs and projects. We are a 501(c)(3) organization, which means that your donation is tax deductible to the fullest extent of the law.
BUT, WE NEED YOUR HELP!  Last year the legislature passed a law that will end Idaho's "Fly Idaho" specialty license plate program this July unless at least 600 more vehicle owners buy the plates—or unless the Legislature amends the law it passed last year.
Please encourage your friends and family to buy the Aviation license plates online at https://www.accessidaho.org/itd/driver/plates/personalize.
There is no need to wait for your plate renewal month. Sign up now and the cost is prorated.
In addition,  it is time for our senators to hear from their constituents- YOU. You can find your legislators at https://Legislature.idaho.gov/Legislators/WhosMyLegislator. You will see all of your legislators' names, along with small photos of them. Just click on their photo, and that will take you to a page with all their contact information, a short bio, and what committees they are on.